Who knew that three days could elicit so much innovation? Free Electrons knew! The 2022 cohort had the chance to meet in person to kick-off effective collaborations between Utilities and the 15 selected startups. Hosted by American Electric Power, the Master Module was held in Chicago, from July 26 to July 28.
Meeting point: AEP Headquarters
The estimated time of arrival in Chicago varied for utility and startup, but we all made it there and were ready to work: Startups and Utilities were welcomed by AEP on July 25 to kick-off day zero of the Master Module. We are talking about flights from 13 different destinations, so jet lag had to be surpassed by a networking evening Chicago style at Francois Frankie.
Day 1: synchronized energy
The Master Module started early in the morning at TechNexus' facilities, bringing everybody together for an intense day of work. And by everybody we mean not only this year's cohort, but several members of our esteemed startup alumni from previous editions. EnergyX, Prescinto and Sensewaves were present to share their experience of past programs, allowing this year's participants to gain insights from peers.
With its very own Free Electrons jazz theme, Chicago is a great setting for innovators to kick off their pilots. Like jazz, business collaborations need a pinch of improvisation alongside strict preparation and the teams worked together to get in sync. During day one, startups and utilities had the chance to combine their expertise & knowledge to begin to shape the future of energy, in dedicated pilot-design sessions and "speed-dates", wrapping up with a team dinner navigating the Chicago River.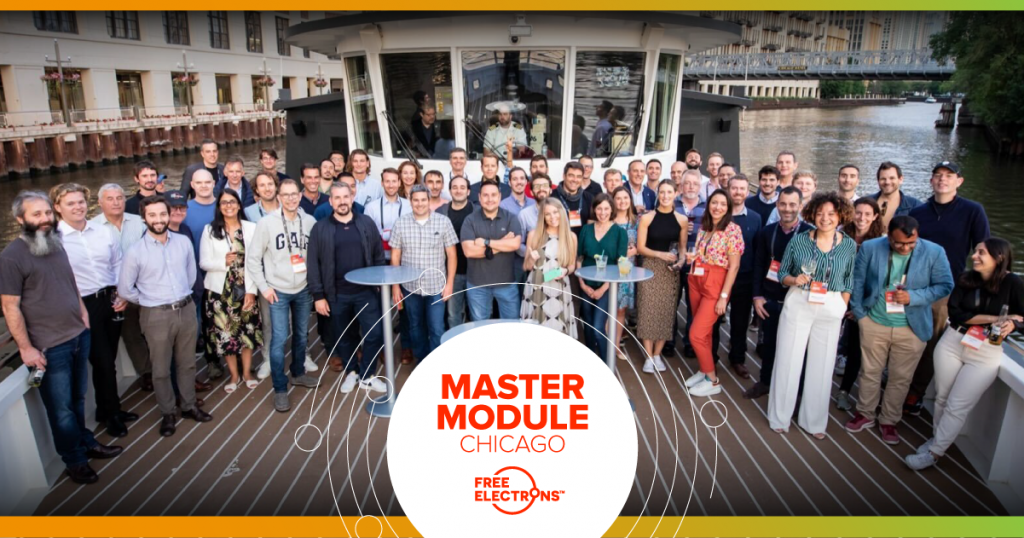 Day 2: a field of 21 Pitchers
At Free Electrons, it is not just the startups who pitch to the utilities, we want the startups to hear from the utilities too. Each "pitcher" represented the work of a unified team with common goals. Much like a baseball team, a sport which Chicago is known for. Pitching is an important part of Free Electrons. As startups grow and evolve their solutions throughout the program its important to showcase this growth. Day 2 saw a continuance of work started the day before; developing tangible collaborations between startups and utilities to find new solutions for the energy sector.
Day 3: See you later!
This was the last day of the module, with final debriefs and definition of next steps. It also included some amazing news: the cohort will meet again in October, for the Final Module in São Paulo. Until then, startups and Utilities will continue collaborating in their work together, changing the Future of Energy.
Overview of the Master Module 2022: