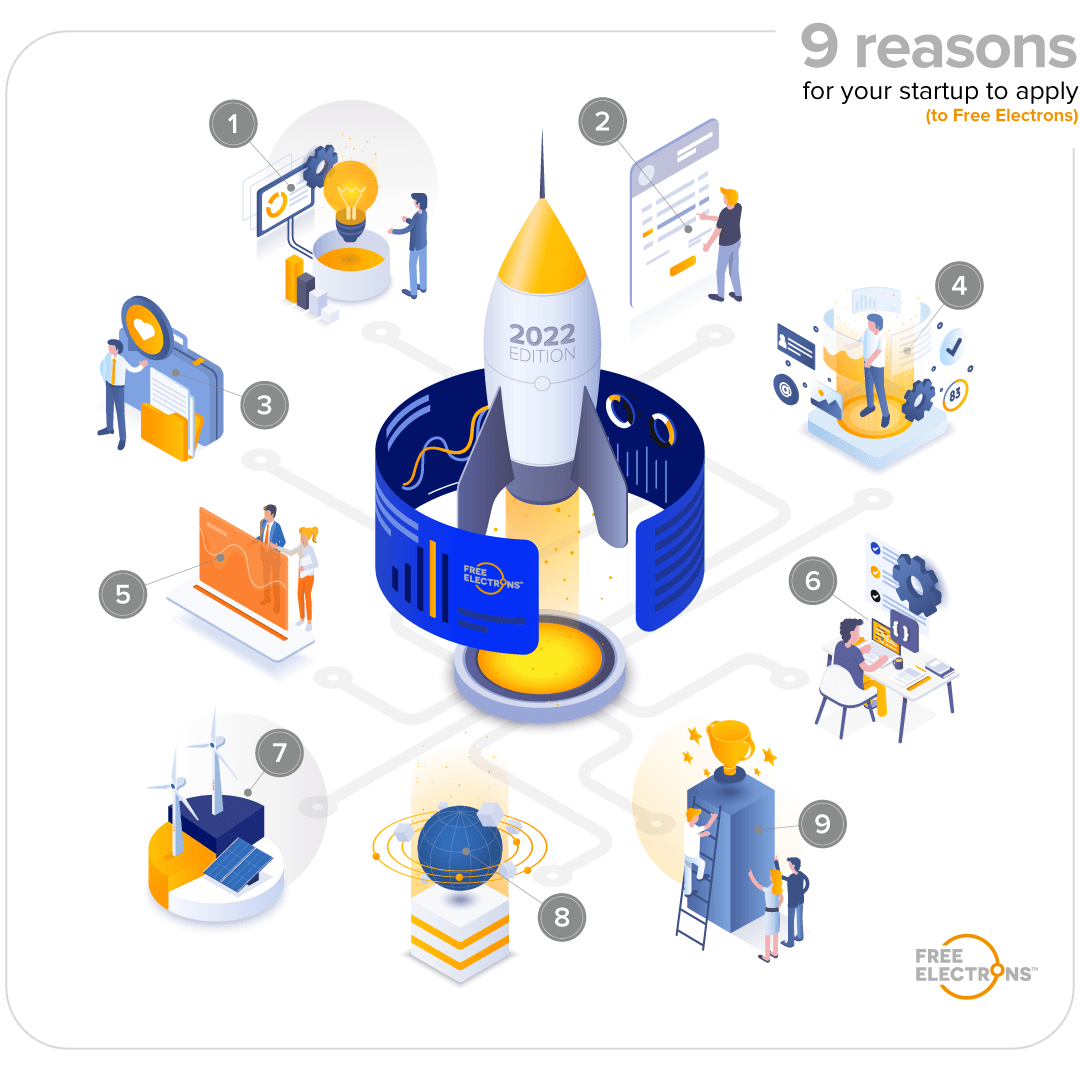 Free Electrons 2022 is here.
9 reasons for your Startup to Apply:
1. You'll be giving your business a chance to grow & evolve in a unique way
Free Electrons is an opportunity for startups to validate and fine-tune business value propositions with a dedicated community of experts. Testing solutions, gaining new insights, growing & evolving!
2. Applying is risk-free, and cost-free.
It's true, applying is free and the program does not ask for equity in your business. We also have several measures in place to deal with IP. However, should one or more of the Utility Partners be interested in investing and the time is right for your business, this is certainly a possibility and a valued outcome for many startups. Applications can be submitted here, within the applications deadline.
3. Corporate Utility Partners with a love of all things startup
The Utilities leading the 6th edition of Free Electrons are: American Electric Power (AEP), CLP, Dubai Electricity and Water Authority (DEWA), Energias de Portugal (EDP), E.ON, Electricity Supply Board (ESB) and Origin Energy. These Utilities are flexible, progressive and dedicated to incorporating the startup way of thinking & doing. You can find information about all of them here.
4. Exclusive access to experts and customers
Overnight, you'll gain access to industry leaders and their networks committed to delivering sustainable innovation, as well as a vast pool of global customers.
5. Partnerships are forming all the time and this is just the beginning
Every startup has its own path at Free Electrons, a unique fit for the varying challenges each Utility is tackling. And the beauty of it is, in addition to the great milestone that Free Electrons may represent in the life of each participant, it is also a major first step into a growing ecosystem in which opportunities continue to emerge months and years down the track. The beginning of a long lasting relationship.
6. You'll really have to work, it only works if you work it
Yes, we consider this a reason to apply. Hard work means concrete results. The program's modules are uniquely focused on exploring corporate-startup collaboration and accelerating deals, pilots and investments. Both corporate and startup will be working hard for their desired results and remember, partnerships are forming all the time at Free Electrons – never give up!
7. Positive impact on the energy sector
Free Electrons gives you the chance to have a positive impact on the energy sector. You'll be bringing your innovation to the Free Electrons table to work with like-minded people in an effort to change the world.
8. It is a global program like no other
The ultimate Open Innovation energy program. Free Electrons is now its sixth edition, which means you'll be benefiting from years of experience and learnings from partners & alumni. Free Electrons' scope is international, both on expertise and culture: startups and utilities from all over the world gather for a journey of collaboration.
9. Beyond the pilots: Business, Deals and a Prize
All in one – throughout the program, you'll be working together to pilot projects, commercially deploy products, facilitate investment opportunities, learn and grow Free Electrons has a track record of investing more than USD $50m+ in deals, and the 2022 edition will be adding to it. Plus, the winner of the 2022 edition will receive a prize of USD 200,000 – no strings attached.